Collections
Shop for artwork based on themed collections. Each image may be purchased as a canvas print, framed print, metal print, and more! Every purchase comes with a 30-day money-back guarantee.
About Johanna Lerwick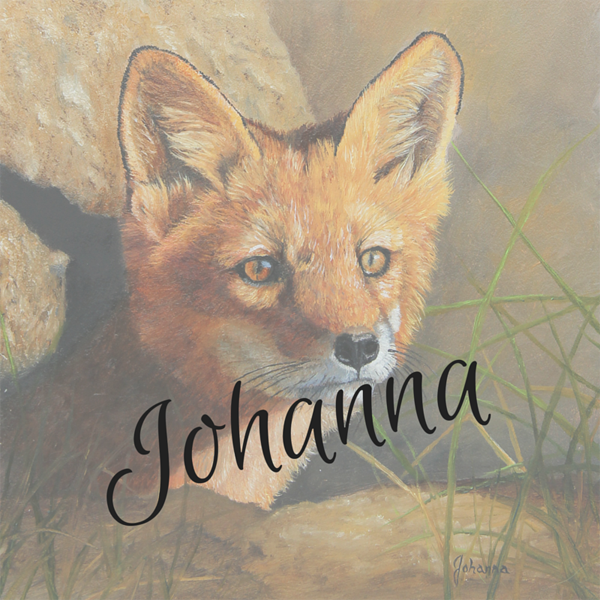 Original paintings can be purchased at johannalerwick.com where I am also selling wolf portraits and Limited Edition prints of the wolves at The Wolf Mountain Nature Center.


With a deep love and passion for wildlife, painter Johanna Lerwick infuses the spirit of animals and nature into her art. Her early fondness and connection with all living creatures provided Lerwick with a unique perspective, allowing her to see the world differently that others. Her desire to capture and share her love of animal subjects drew her to art and elevated her creative energy. After years of developing technique and vision, Lerwick employs a high level of realism with mastered elements of light and shadow to depict her subjects. Every peaceful, yet engaging painting calls to the animal spirit within us all.
Growing up on a small dairy farm in Coventry, New York, a small town upstate, Lerwick cultivated a deep connection to animals and wildlife. "Nature has always been part of my life," she says. "I didn't know at first how my love for nature and animals would impact my love for art." Lerwick had no fear and her father often worried over her closeness to the farm animals, concerned that she could get hurt. Though she was always getting into something, being around the animals was Lerwick's greatest joy.
Although Lerwick didn't recognize her artistic talent till much later in life, she realizes that she saw the world differently than most. "I saw the different colors in a leaf," the artist explains, "and how the light reflects off the water. I would spend hours watching cloud formations and how the sunlight or moonlight reflected on them."
Lerwick didn't have any real art education in school beyond the typical art classes all children attend. "It wasn't until my twenties that I started painting," she explains. "I had left the farm and the country and married my husband who was in the Navy. We lived in Washington D.C. for two years and then Guam for another two years. My son was three years old when we moved to Norfolk, VA, and I became a stay at home mom for a short while."
I Virginia, she began sketching to fill her time. Her first subjects were old barns, fences, trees, landscapes and seascapes. As her talent grew, Lerwick picked up painting with acrylics and oils. Eventually, her husband left the Navy and her family moved back to upstate New York and built a house in the country. There she continued to draw and paint, expanding her technique and skill but after a time, Lerwick and her husband divorced. This life challenge left her with many new responsibilities but aided in cultivating a stronger spirit.
"After my divorce at thirty years old, I didn't have time to paint as I was working full time, raising my son alone and was also there for my parents," she states. "In addition, I started my own business in genealogy research and I was publishing catalogues on pedigree cattle for major sales/auctions. When my father passed away, my son was grown and out on his own, so I then took care of my mother along with having my own business.
It wasn't until her mother passed away when Lerwick, now in her forties, picked up a paint brush again. "I started going to bed at night and waking up with art on my mind," she adds. "Whether it was the painting I was working on at the time or thinking of what I wanted to paint next, I could think of little else.
Lerwick was now accomplished enough to begin painting her true love; animals. She sought to expand her knowledge by studying how-to-books so that she could learn to paint eyes, ears and noses. Her work progressed so much that she found a gallery in Greene, N.Y. that was willing to show and sell her work.
As Lerwick became more and more involved in her art, she began to reach beyond the animals and wildlife of her local area. She began to draw inspiration from her many travels to exotic locales. Lerwick went on safari in Africa, took a 700 mile raft trip down the Amazon, and traveled to Guam, Tahiti and Mexico.
"My inspiration comes at any given time or place. It could be something I see or even hear," she explains. "All I need to do is go for a walk through the meadows or the woods, sit by a stream or pond, watch a sunrise or sunset and see flowers, leaves and grass dancing in the wind. I may venture up to the Wolf Mountain Nature Center, The Animal Adventure park near here and spend hours observing the animals.
Though she began her studies in technique with acrylic paint, Lerwick soon realized she had a greater love for oil. Much of her process has been trial and error and discovering what fits her best.
With animals as her preferred subject matter, she has established techniques for bringing out emotion and mood through their eyes and expressions. She then strives to place each of her subjects in a corresponding background that fits the feeling. Sometimes the background is more abstract and not as detailed depending how Lerwick imagines the scene or where she wants the viewers focus.
Lerwick feels that as an artist, she will always be educating herself as she continues her journey. "Life is a constant learning process as situations and changes occur and I feel that I can continue to grow in my art," she states. Through her learning process she has achieved success such as featured shows with the Cooperstown Art Association 77th and 79th annual juried art exhibition. In addition, Lerwick received a congratulatory email from The Artist's Magazine annual art competition for two entries that have been selected as finalists in their animal/wildlife category.
Lerwick continues to enjoy the grand mysticism of nature and would like nothing more than to enjoy the rest of her life surrounded by the wildlife and animals that have graced her many masterpieces. She currently lives in upstate New York where she is active in pursuing a life and career in art, surrounding herself with what makes her happiest.
Beyond honing skill, art is about much more for Lerwick. It's about expressing vision and communicating a deeper meaning. "My understanding of art is that most people can see that a leaf is green but they don't understand that it is much more than green. People can hear water running but they have never really listened to it. Nature is alive, many just don't take the time to truly appreciate and celebrate it."

Original paintings can be purchased at johannalerwick.com where I am also selling wolf portraits and Limited Edition prints of the wolves at The Wolf Mountain Nature Center.